How ArcGIS Urban Helps City Planners
Enhanced insight into GIS data
Create a 3D representation of a city and acquire contextual information to analyze performance and enhance decision-making.
Analyze contextual data
Instantly envision projects in the local context, optimize location intelligence and connect visual and quantitative concept.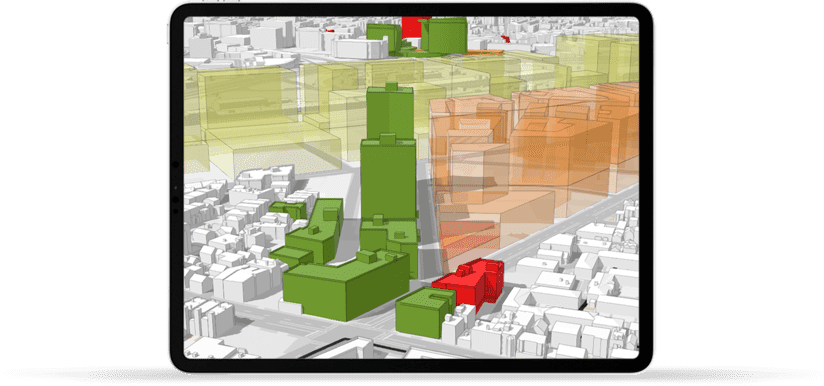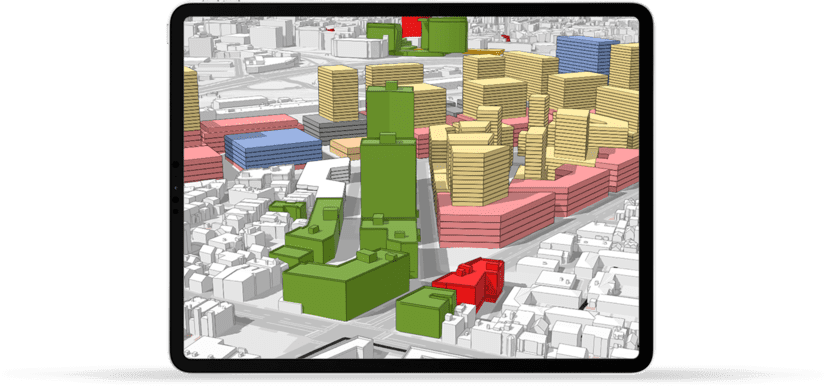 Deep dive into your Zoning ordinances
Modify zoning constraints on-the-go and check for its adaptability.
Seamless run test scenarios
Evaluate zoning changes and conduct zoning revisions for test proposals.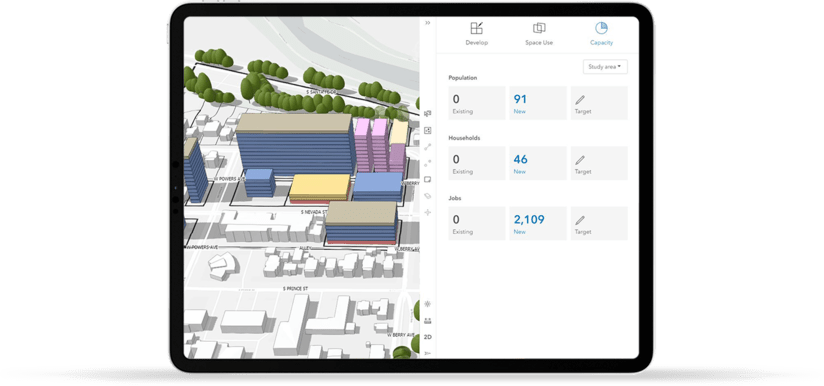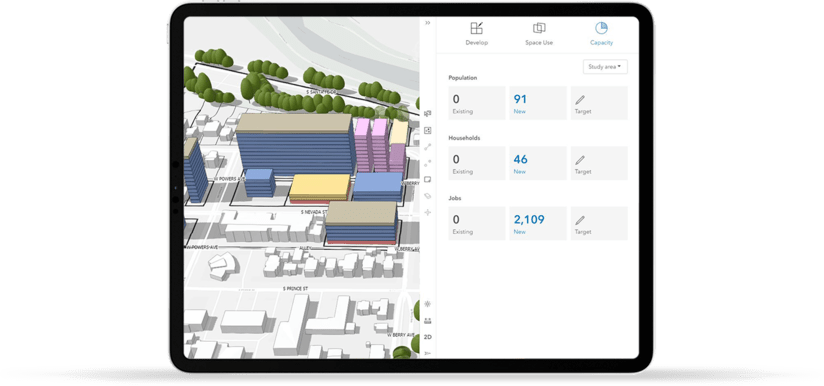 3D immersive customer engagement
Gain early buy-in for new projects through Urban's digital engagement for citizens and stakeholders.
Share scenarios for enhanced visibility
Scenarios can be easily shared with stakeholders to visualize impacts.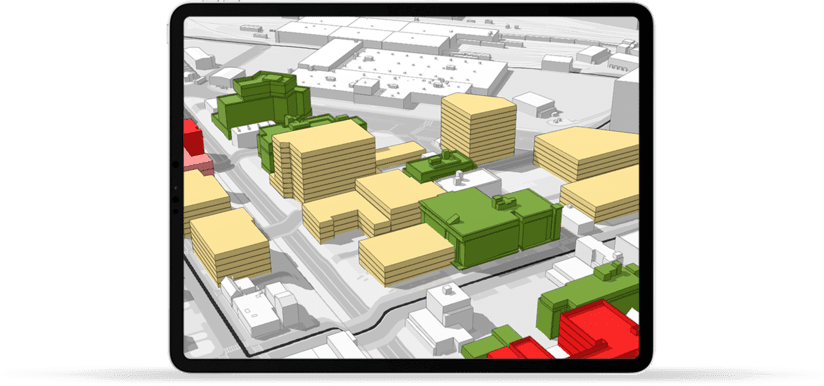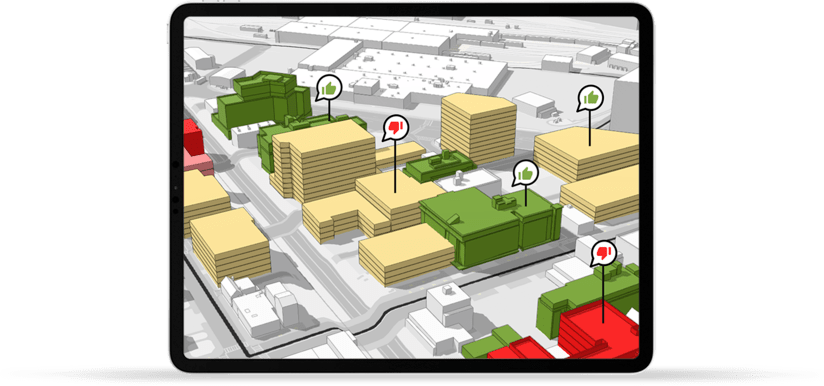 Cutting edge scenario planning tools
Visualize current conditions and proposed plans in the same planning initiative.
Create scenarios with confidence
Stimulate control growth and explore the effects of development constraints.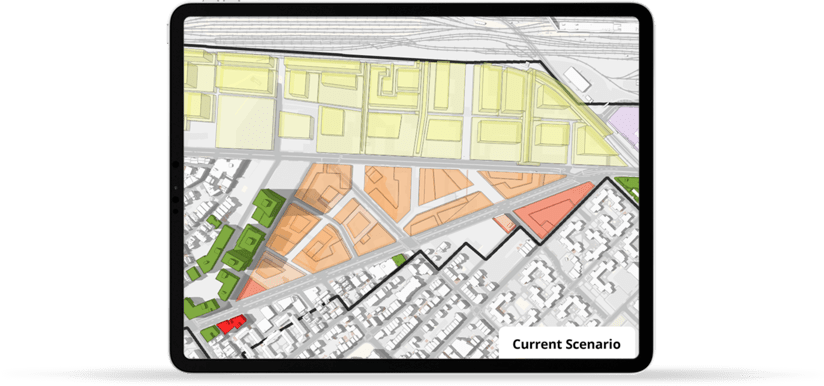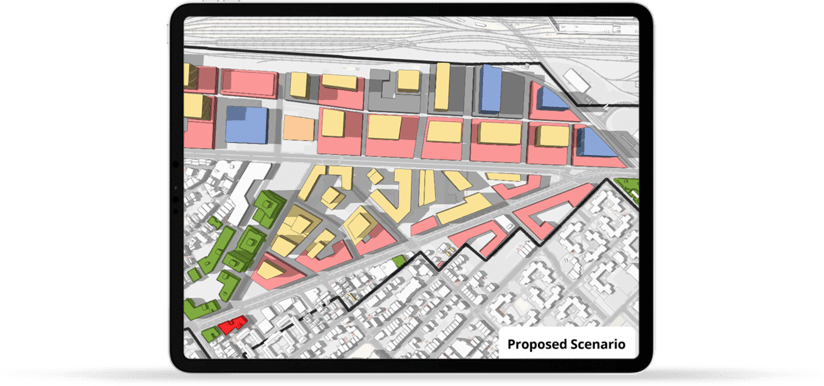 How to deploy ArcGIS Urban
ArcGIS Urban is relatively a newer member of the Esri family that requires specific configuration and data set ups. As an Esri certified ArcGIS Urban Deployment partner, ViewPro has sufficient technical expertise and relevant experience to help any city or a municipality with Urban deployment.
As City Planners, we recognize planners' needs and potential technical gaps that exist in local governments. ViewPro is committed to simplify the complexity of 3D enabled Scenario Planning tools in a cost-effective and a timely manner.
Schedule Consultation
1
Qualification
Days: 1-7
Set up pre-qualification consultation (1 hr.)
Identify a suitable project
Identify gaps for implementation
2
Consult
Days: 8-15
Document city's GIS architecture
Identifty project boundaries
Set up initial procedures for implementation
3
Transform
Days: 16-30
Establish Standard Zoning Rule Procedures
Migrate City's Zoning Regulations into ArcGIS Urban
Perform Testing Procedures to confirm Data Migration to Urban
4
Go Live
Days: 31-45
Stabilize Urban Migration
Go Live with 1st Urban Scenario Plan
Knowledge Transfer with stakeholders
Case Study
Urban Deployment
City of Littleton, CO
Learn how City of Littleton leveraged Urban deployment to make better decisions using 3D zoning analysis.
View Case Study
Words from our client
Urban positions us to imagine the next 20 years of our evolving small town!
The City of Littleton, CO is in the midst of updating our regulatory framework (land use code and zoning) after an over 40 year hiatus. Bringing the vision of our newly adopted Comprehensive Plan into reality requires a very robust policy conversation and working with ViewPro has allowed us to employ the best solution to provide real-world context to making decisions for our suburban city. The professionalism and responsiveness of Suhag and his team to create context through a 3D model of our downtown using ArcGIS Urban positions us to discuss trade-offs and imagine the next 20 years of our evolving small town! It has been a great experience creating the model with ViewPro and now we look forward to highlighting the model for both our decision makers and community.
Kathleen Osher
Manager of Innovation & Performance Excellence
City of Littleton, CO
enCodePlus collaboration
Frequently Asked Questions
What is ArcGIS Urban?
ArcGIS Urban is a comprehensive GIS tool servicing the needs of Planners. Esri's flagship tool for Zoning and Scenario Planning, ArcGIS Urban provides a 3D immersive experience so Planners can instantly visualize projects in the local context, utilize location intelligence to make better decisions and connect visual and quantitative concepts for a complete 3D zoning analysis.
What are the benefits of ArcGIS Urban?
ArcGIS Urban is designed with Planners first approach and will help tackle Zoning and Land Use scenarios with ease. ArcGIS Urban offers many benefits including but not limited to Enhanced Decision Making, Improved Planning Productivity, Increased Community Engagement, real-time 3D representation of Zoning Ordinances and access to 3D contextual assessment of the geographic area. ArcGIS Urban also allow multi-departmental collaboration that allow City Planners and City Engineers to create Specific Area Plans, Track Development Projects, Manage Zoning Changes, Conduct Land Analysis and ability to Review Performance using key economic, social, environmental and spatial indicator.
How to deploy ArcGIS Urban?
ArcGIS Urban is inherently web based and works on ArcGIS Online platform. To run ArcGIS Urban, the licensee does not require any desktop based program that makes it very easy to access the program from anywhere. ArcGIS Urban is a brand new technology and hence it may require help from professional consultants. A list of Esri certified ArcGIS Urban Deployment partners can be found from the link below.
Esri Certified Urban Deployment Partners List
In our professional experience working with ArcGIS Urban, we have found the Urban deployment as easy to configure and intuitive to use.
What is the ownership cost for ArcGIS Urban?
ArcGIS Urban licensing is very straight forward and affordable. Esri also provides hefty discounts to cities and local governments who have Local Government Agreement in place. We highly recommend contacting the local Esri represent ative to help you identify the savings with the software cost.
ArcGIS Urban is a new technology and the learning curve involved may pose technical challenges at firs.
As an Esri certified ArcGIS Urban Deployment partner, ViewPro is equipped to handle any technical challenges that may come across during Urban deployment. To deploy Urban for a Small Area Plan, there is a one-time implementation cost that includes necessary knowledge-transfer that will make the City staff self-sufficient to handle it themselves.
To learn more about ArcGIS Urban Deployment click the link below.
How to deploy ArcGIS Urban?
My city has a population of less than 40,000. Is ArcGIS Urban only relevant to cities with a certain population size?
Naturally Tier 1 cities such as San Francisco, Boston and Honolulu were the early adaptors of ArcGIS Urban that set the trend for many other cities to follow. As ArcGIS Urban growing its popularity, we have seen Urban deployment in cities with population as low as 25,000 and as high as more than a million.
ArcGIS Urban's benefits are not associated with the size of the community but in fact on the size of the Planning issues that one is trying to solve. ArcGIS Urban can help solve problems such as urbanization, environmental hazards, identifying development trends and improving Planning productivity that is irrelevant and independent of the community size.
ViewPro provides IOC (Initial Operating Capability) assessment to check if ArcGIS Urban is a right fit for your community
Idea: Develop a quick that help you identify which Esri technology is a right fit for you
What to learn more?
Take advantage of 15 minute complimentary session with our planning and GIS experts.