GIS Solutions
GeoZone - GIS for Zoning
GeoZone is an easy to use inherently 3D Zoning tool designed for City Planners to assist them to decipher complex zoning ordinance with ease and accuracy.
GeoComment - GIS for Public Participation
GeoComment is a map-based citizen engagement tool designed to facilitate communication between local governments and its citizens to have a meaningful dialogue.
GeoLocator - GIS for Economic Development
GeoLocator is a Site-Selection tool designed to aide economic development processes that provides real-time access to commercial Sale/Lease properties and demographics reports.
ArcGIS Urban Deployment
As an Esri-certified ArcGIS Urban Deployment Partner, ViewPro is committed to simplify the complexity of 3D enabled Scenario Planning tools in a cost-effective and a timely manner.
ESRI Deployment
Being City Planners and with planning-specific domain expertise allows ViewPro to custom-fit Esri's technology tools to cater a city's unique needs.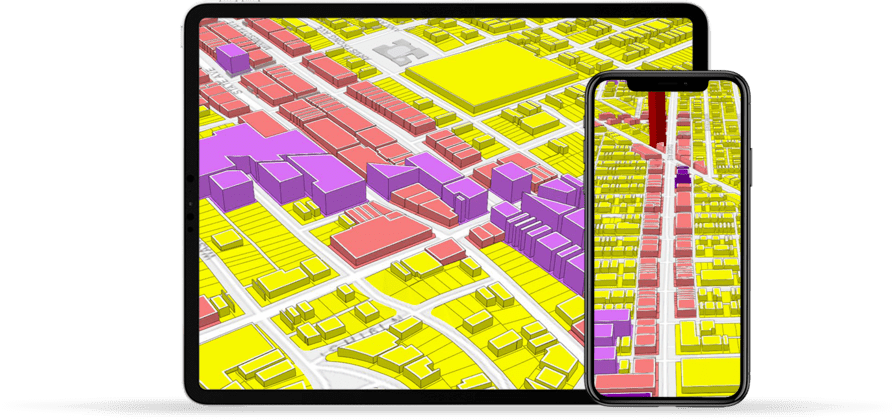 Easy access to GIS data with minimal training leading to more efficiency
Jose Abraham, Planning Director at City of Richmond, TX
Become a Consultant Partner
As a peer consultant, we recognize the importance of using right mix of GIS technology in various forms of Urban Planning. ViewPro can extend your GIS capabilities with it's out of the box proprietary GIS software solutions coupled with Esri's GIS domain expertise to fulfill common goals.
Exclusive access to GIS tools designed for Planners by Planners
Leverage from our long-standing business relationship with Esri
Expand your technology offerings and stay relevant in the marketplace
Immediate value addition by Configuration First and Customization Second
Ongoing technical assistance support to ensure customer success
Proven track record of successful working partnerships
Our Consultant Partners
Happy partners building businesses and solving customer needs with a customer centric approach




Experience the Difference
ViewPro serves local governments by providing superlative GIS services to help boost citizen engagement, bridge knowledge gaps and solve ongoing planning challenges.
Planners First Approach
As City Planners, we are perceptive to the day to day needs and challenges of our fellow Planners.
Esri Certified
We are recognized for our technical expertise as Local Government Specialists by Esri.
Sustainable Business Practices
We promote sustainable business practices for GIS to serve the long-term needs of organizations.
Proven Track Record
We take pride in a proven track record with multiple client success stories.
Simplistic Technology
Our easy to use technology tools facilitate informed decision-making that saves time and money.
Increase Efficiency
Our tools integrate multi-departmental workflow and promote data transparency across the agency.
Words from our client
Adjusts to client's changing needs with professional GISexpertise.
ViewPro adjusts to his client's changing needs with professional GIS expertise. When our team that contracted with Suhag to produce an online GIS changed dramatically, Suhag responded to our new priorities and data needs. The end result exceeded my expectations.

Deanna Schmidt
Director of Planning
Professionalismand customer service we received has made this a positive experience.
I wanted to let you know how appreciative I am of ViewPro and Suhag Kansara for assisting the Katy Fire Department with our Esri / ArcGIS project for the fire department. Suhag's experience in producing a streamlined, user-friendly product was very beneficial to our department. His professionalism and attention to detail made this a very rewarding project. This project will not only aid the fire department for emergency responses but it has been integrated across the city. The Fire Hydrant tracking and maintenance will be a streamlined process now going forward thanks to ViewPro. The software will make reporting any tracking issues much easier and time-efficient. The software also is very user friendly and will not require extensive training to use it. Overall the professionalism and customer service we received has made this a positive experience and we will use ViewPro again is possible.

Kenneth Parker
Assistant Fire Chief
Resolved many issues that were long overdue in our City
ViewPro staff is extremely professional. They thoroughly demonstrated their expertise in a timely manner. I would definitely utilize its service again. ViewPro resolved many issues that were long overdue in our City.

Michael S. Wolfe, Sr.
Mayor
ViewPro has an intensive knowledge of local government practices as it relates to Zoning.
ViewPro, in the past few years, has worked with City of Dayton to establish an ESRI based zoning map and unified development code. The zoning map is not only for internal use for the public as well. It is interconnected with our Unified Development Code which streamlines code research so that users don't have to witch between applications. ViewPro has an intensive knowledge of local government practices as it relates to Zoning.
ViewPro has demonstrated professionalism every step of the way. It was my pleasure to work with ViewPro give our staff and customers a tool that is used daily. Their experience and customer service have made this transition exceptionally easy and successful.

Kimberly Judge
Assistant City Manager
Appreciate your overall GIS and local government experience and knowledge.
The City of Cuyahoga Falls has enjoyed working with ViewPro and is extremely satisfied with the ViewPro Maps that you created for the City.  We have appreciated your overall GIS and local government experience and knowledge.  This experience has helped our project advance quickly.  The ViewPro maps along with Encode has allowed government officials and residents to more easily access important information about their property or neighborhood.
In addition, ViewPro customer service has been excellent and we would hire you again.

Fred Guerra
Planning Director
Easy access to GIS information with minimal training.
The recent update to the City of Richmond Zoning map by ViewPro has been very beneficial both in terms of boosting our efficiency and our customers' ability to get Zoning related information from our website. ViewPro map in conjunction with enCodePlus Unified Development Code Portal is a great tool for staff as well as citizens and customers.
The overall experience of working with ViewPro team has been extremely pleasant due to their professional attitude and knowledge about matters such as Zoning, GIS mapping tools, and software development. Suhag Kansara, who led the team, was always patient and provided excellent customer service. The biggest benefit of ViewPro tools for us is easy access to GIS information with minimal training, thereby, leading to better time efficiency and communication. It was a pleasure working with ViewPro team and we look forward to work with them again when needed.

Jose Abraham
Planning Director
Customer service that made collaborating a smooth, stress-free experience.
I would like recognize ViewPro for their outstanding performance in bringing to life the City of Pleasant Hill's first GIS Web Mapping Service. I was pleased with my experience working with ViewPro who exhibited a high level of professionalism and knowledge of local governmental issues as well as an incredible display of customer service that made collaborating a smooth, stress-free experience. I am ecstatic to officially unveil the Web Mapping Service within the following weeks to local resident and prospective developers, the real end users of the product. I gladly recommend ViewPro to any municipality, regardless of size, zoning complexity, or customization needs, ViewPro will meet your web mapping service needs.

Chris Widmer
Associate Planner & Stormwater Coordinator
Great job of pairing city maps with city code.
ViewPro does a great job of pairing city maps with city code. ViewPro uses ArcGIS on-line API's, providing an ArcGIS experience for non-GIS users of our web site. Citizens and developers use the site to see which areas of the city are affected by which ordinances and regulations. Click a zone on a map to see links to our on-line documents; click a zone's name in a document to be shown the applicable areas in the city map. It's good and truly integrated.
Like any new software implementation, we had to plan how we were going to make ViewPro work for us. We didn't have to set up the application alone, however. enCodePlus assigned us an implementer to work with. He showed us sample projects and we were able to better envision what we wanted for ourselves and our population. Our Planning & Zoning division, in Development Services, made such decisions as they were going to use the software more than any other department.
If it's one thing that's constant, it's change. Soon after adopting enCodePlus-ViewPro, city council approved new zones that required new symbology; we migrated our zoning layer to the latest enterprise geodatabase and redesigned the fields along the way; and we published new ArcGIS Server services. Our implementer worked with us so that our ViewPro site looked better than before.

Roger Dunn
Senior GIS Programmer/Administrator
Allowed us to employ the best solution to provide real-world context to making decisions.
The City of Littleton, CO is in the midst of updating our regulatory framework (land use code and zoning) after an over 40 year hiatus. Bringing the vision of our newly adopted Comprehensive Plan into reality requires a very robust policy conversation and working with ViewPro has allowed us to employ the best solution to provide real-world context to making decisions for our suburban city. The professionalism and responsiveness of Suhag and his team to create context through a 3D model of our downtown using ArcGIS Urban positions us to discuss trade-offs and imagine the next 20 years of our evolving small town! It has been a great experience creating the model with ViewPro and now we look forward to highlighting the model for both our decision makers and community.

Kathleen Osher
Manager of Innovation & Performance Excellence
Listened to our needs and to create a map product is easy to use and visually attractive.
As the project lead for the City of Manhattan's Unified Development Ordinance project, I have had the pleasure of working with the team at ViewPro to develop the City's online zoning map. Although the project is not yet complete and the online map is not viewable to the public, I have appreciated ViewPro's professionalism, their ability to listen to our needs and to create a map product is easy to use and visually attractive.
Based on the experience we have had with ViewPro to create our new zoning map, it is my pleasure to recommend their as a specialist of Esri's Local Government and Urban Development products.

Chad Bunger
Community Development Director
The engagement through ViewPro has helped us clearly identify issues, solutions, and suggestions from our public.
ViewPro team is very knowledgeable, intuitive, and personable in their expert delivery of technical skills, customer service, and adaptability. I've thoroughly enjoyed brainstorming ideas with their team and seeing those ideas come to life in a way that serves my office well. At the City of Covington, we've utilized ViewPro to engage our citizens in a huge undertaking: rewriting our local zoning ordinance and creating a new district map. The engagement through ViewPro has helped us clearly identify issues, solutions, and suggestions from our public. When we need engagement like this next, ViewPro will be the first group on our minds.

Christopher Myers
Planning Specialist
ViewPro team has helped align city's smart city planning goals with Esri's ecosystem.
Rocky Mount leverages the ViewPro team to better position the city en route to becoming a smarter city by using Esri based cutting-edge technology toolsets with ArcGIS Urban.

Gregory Cotten
Chief Technology Officer
Frequently Asked Questions
What is GIS and what is its role in Urban Planning?
A Geographic Information System (GIS) is a computer system that analyzes and displays geographically referenced information. It uses data that is attached to a unique spatial location that allows the decision makers to analyze and assess real-world problems.
In Urban Planning, GIS plays an integral role in how cities are shaped. One of the reasons why GIS is important in urban planning is the ability to better understand current needs for a city, and then design to fulfill those needs. With increased Urbanization, the importance of GIS lies in its ability to pull together the vast amounts of information necessary to balance competing priorities and solve complicated problems. Since its inception more than 30 years ago, GIS technology has truly empowered Urban Planners with enhanced visibility into the geospatial data.
What parts of local government use GIS and explain its benefits.
The scale of the planning area covered can range from a whole city to a sub-region of a city, a district, or a street block and GIS holds the key to better decision-making; just about everything from a community, business, or to what public agency does in day-to-day operations or long-term planning. All aspects of any City Administration is driven through GIS technology. Local Government uses GIS in Zoning, Land Use Planning, Utility Tracking, Building Inspection, Building Permit, Citizen Engagement, Emergency Management, Parcel Management and even providing better customer service by having access to precise and up to date access to data.
The Elevator Analogy
Imagine a tall skyscraper with multiple layers of floors. The elevator acts as a GIS technology that not only integrates various aspect of City Government (floors) but also keep them connected at all times. GIS has proved to be the backbone in helping local government through decision making.
Why ViewPro and how are ViewPro's GIS solutions different from the competitors?
We at ViewPro are City Planners first and we are passionate about solving Planning challenges through the right use of GIS technology. Being in the industry for close to 20 years, we understand and recognize the day to day challenges of local governments regardless of its size.
Overarching GIS technology can perform many technical steps but they are generally geared to solve problems that speak to many industries-not specific to City Planning. Cities and Local Government need GIS solutions that are built just for them. ViewPro recognizes this gap and has built the last mile solutions that makes the use of GIS technology as part of Planners daily workflow.
ViewPro's GIS solutions are simple to use and require little or no technical expertise. We at ViewPro keep it simple.
Why does ViewPro partner with Esri?
The pioneer and market leader in GIS, Esri has deployed GIS technology in over 350,000 institutions all across the globe. We have seen Esri evolve in the last 20 years into a social responsible organization that truly and deeply cares about creating geospatial technology that solves real-world problems.
In evaluating the right technology partner, we were looking to have a company that put clients first over profit, a company who backs its technology with full support, a company with a grand vision and most importantly who is most likely to survive rather unpredictable economic ups and downs in the future.
After careful evaluation and evaluating multiple competing technology companies in GIS space, we truly recognized Esri as a perfectly suited partner to build sustainable Planning solutions. As Esri's business partner since 2017, ViewPro is now committed to extending and customizing the reach of Esri technology to local governments, cities and municipalities.
Is there a population size threshold for ViewPro solutions to be more effective for implementation?
This is a very good question. We always wondered that from the beginning. Our initial assumption that Tier 1 to Tier 3 cities with (100k to 1M) population is more appropriate for implementation. This assumption was quickly put to test when we saw an increasingly high demand for map based user friendly Zoning tool.
ViewPro's various GIS solutions have been implemented in cities with as low as 5,000 and as high as 500,000 population in North America. ViewPro's SAAS platform allows us to produce cost efficient tools and it has been able to meet the expectations for a small town to Tier 1 cities. ViewPro sees no relevance with city's population size as a limiting factor to implement its solution.
What to expect from ViewPro in 2020-2021?
ViewPro has exciting and bodacious plans for the year 2020. We are re-building the ViewPro's underlying technology from the ground up so that it can support 3D based analytical solutions. Our widgets are getting far more efficient and fine-tuned for its day to day us.
Esri recently welcomed ArcGIS Urban into its GIS line of products that is inherently designed to keep Urban Planners needs in mind. Our Planners at ViewPro are de-coding Urban technology to provide our Local Government customers user friendly solutions to leverage Scenario Planning solutions. ViewPro is also proud to be part of an exclusive group of Consultants who are certified by Esri to deploy ArcGIS Urban solutions for Local Governments.
What to learn more?
Take advantage of 15 minute complimentary session with our planning and GIS experts.