Benefits of ViewPro GeoLocator
Short list properties with ease
Easy to use tools that highlights properties and short lists sites for economic development purposes.
Identify trend
Helps identify changes in trend with access to curated economic development data.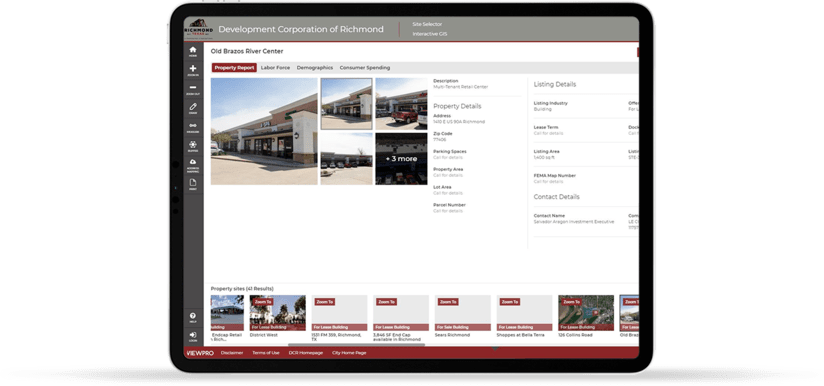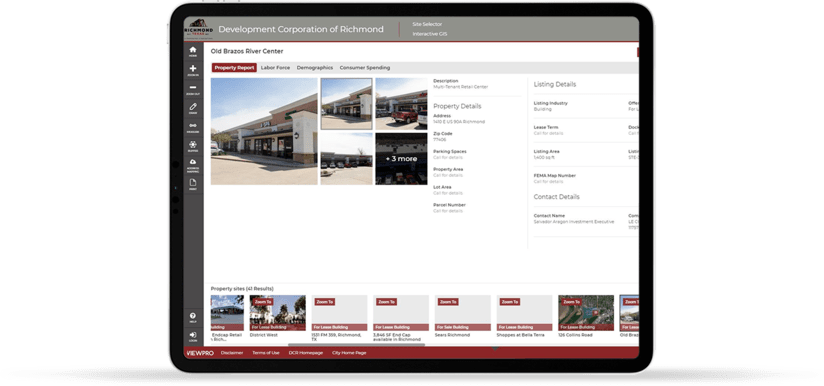 Enhanced visibility into your data
Inherently 2D and 3D configuration helps visualize context and identify changes in spatial patterns in real-time.
Data driven analytical reports
Get data-driven maps and reports that show why your community is the best place to start or grow a business with empirical data.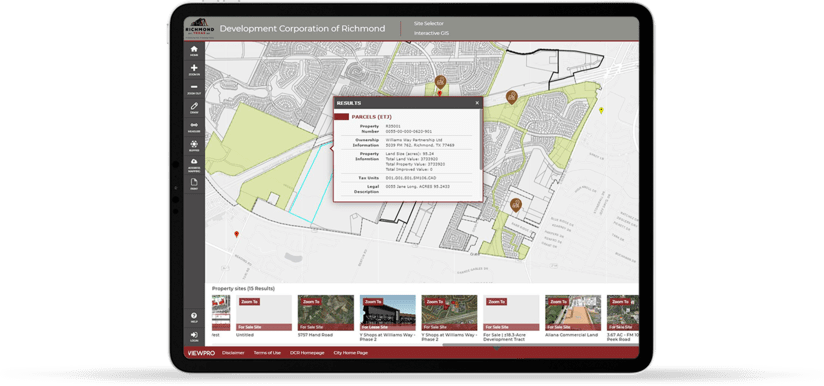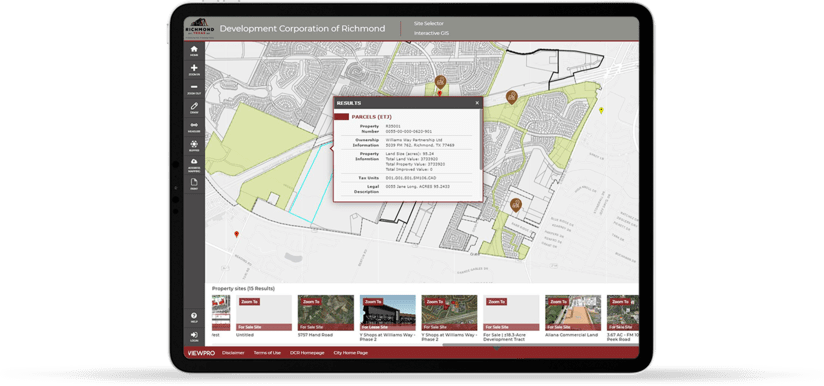 Download/Share property reports
Easy to download and share property listings and reports with your organization.
Seamless access to ancillary planning tools
Seamless cross-platform access to ViewPro's Zoning and Public Participation Tools.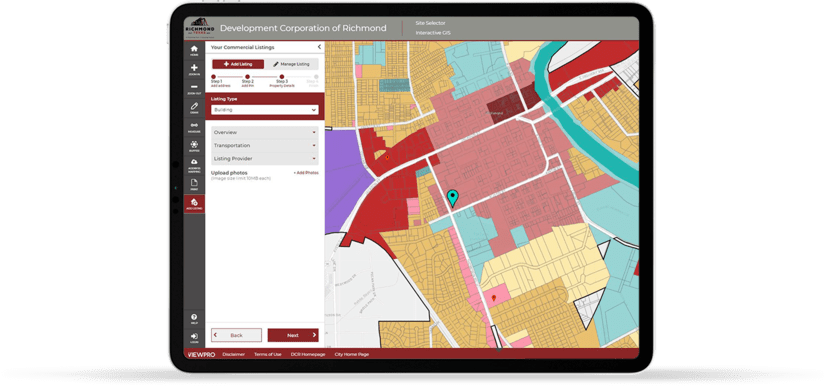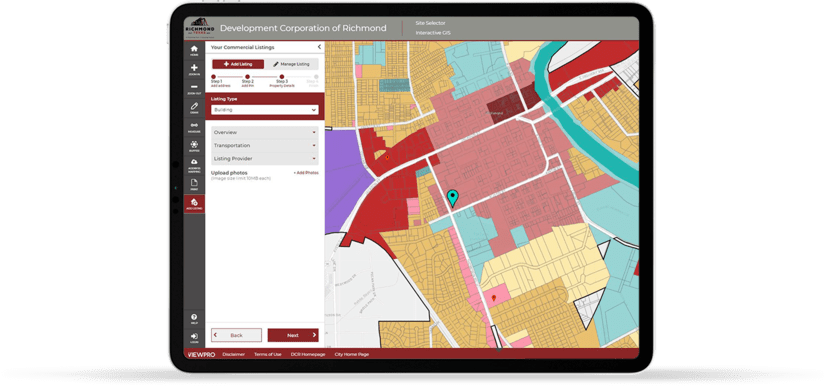 Access to Esri curated reports
Instant access to demographic and business analyst reports curated by Esri.
Access to 3rd party commercial listings
Access to 3rd party curated exclusive data reports to aide decision making.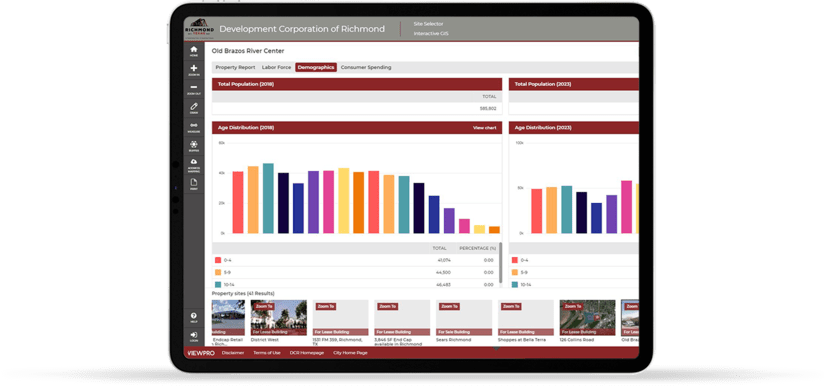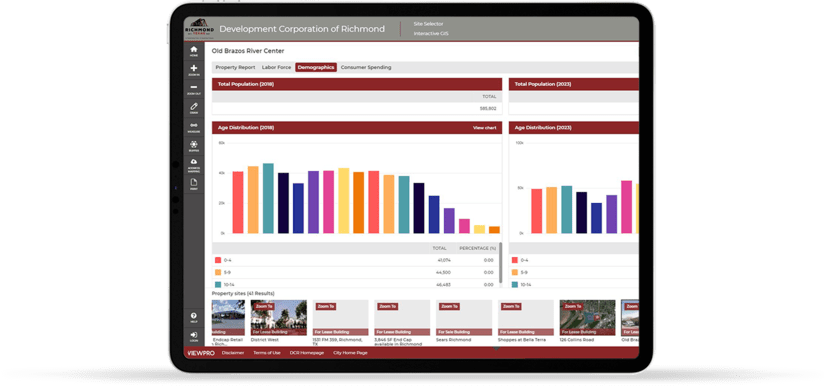 Case Study
Economic Development
City of Richmond, TX
Learn how Richmond EDC is using GIS analytics to advance city's economic development goals.
View Case Study
Words from our client
Easy access to GIS information with minimal training.
The recent update to the City of Richmond Zoning map by ViewPro has been very beneficial both in terms of boosting our efficiency and our customers' ability to get Zoning related information from our website. ViewPro map in conjunction with enCodePlus Unified Development Code Portal is a great tool for staff as well as citizens and customers.
The overall experience of working with ViewPro team has been extremely pleasant due to their professional attitude and knowledge about matters such as Zoning, GIS mapping tools, and software development. Suhag Kansara, who led the team, was always patient and provided excellent customer service. The biggest benefit of ViewPro tools for us is easy access to GIS information with minimal training, thereby, leading to better time efficiency and communication. It was a pleasure working with ViewPro team and we look forward to work with them again when needed.
Jose Abraham
Planning Director
City of Richmond, TX
enCodePlus collaboration
Frequently Asked Questions
Why is GIS important in Economic Development?
Economic developers need effective decision-making tools that help them conduct analysis, display and disseminate results and make informed decisions about where to locate new businesses or grow existing ones. GIS technology is proven to be powerful and effective in delivering these functionalities to help economic developers sustain economic recovery and growth.
How does GeoLocator help Cities and Local Governments to attract businesses?
Planners at ViewPro recognize the pressure that modern cities face who are looking to attract and retain businesses with a well-thought-out and innovative strategy by showcasing a city's unique strengths and its smart development strategies.
GeoLocator is a map based tool that helps draw business' attention to the city's unique strengths. The tool uses real-time Demographic and Business Analytics powered by Esri to offer business intelligence for identifying infrastructure assets and factors contributing to the current trends in development.
GeoLocator is an essential tool in a fiercely competitive market to retain business customers and tax dollars within its city limit and prevents the city from losing out to a neighboring city.
Where does the Commercial Real Estate data come from?
Available commercial properties for Sale and Lease is the foundational data required for any City or a Municipality to drive the economic development engine. ViewPro maintains ongoing working relationship with 3rd party vendors who creates and routinely updates the commercial real estate data at a national scale. ViewPro leverages their data and ensures its seamless implementation with GeoLocator.
Can the admin add their own Commercial Properties into the database?
Yes. GeoLocator has developed a proprietary tool that will allow the Administrator an ability to create their own commercial properties for Sale and Lease. The tool has the ability to share hierarchical user profile to real estate brokers and professionals who can add the listings while providing full editing access to the Administrator. This proprietary tool provides the city clients an option that requires no 3rd party subscription for commercial real estate data and regain full control of the local real estate listing data.
What is the ownership cost for GeoLocator?
ViewPro's GIS products including V-Site are designed in a Software-As-a-Service (SAAS) configuration. This allows ViewPro to spread the cost of development across all of their city and local government partners. This results in significant savings and more standardized approach in how various GIS products are designed and offered.
With the support of a few dozen city clients, economic development corporations and agile SAAS platform, ViewPro is continuing to innovate and develop new product features without having to add additional cost burden to our current and future city clients.
What to learn more?
Take advantage of 15 minute complimentary session with our planning and GIS experts.