Download
Background
The City of Katy (COK), TX has a thriving population seated at the touching distance of a much larger and rapidly urbanizing greater Houston area. The uniqueness about the city is not forits small town feel with urban mindset but for their significant investment into public safety. The COK is in the pursuit of setting up an impeccable safety standards within its city limits by ensuring its water infrastructure outlets such as fire hydrants are in ready to use condition at all times.
Problem
The Katy Fire Department (KFD) was faced with a problem to efficiently maintain and keep the inventory of all fire hydrants within the City Limits. COK was looking for a solution that would integrate multiple city department workflows under a single roof and provide easier exchange of data to increase efficiency into its governance.
Multi-department workflow
KFD requires all fire hydrants ready to go at all times. Katy Police Department (KPD) needs to know which hydrants are not functional at any given time. Katy Public Works (KPW) department need to keep the hydrants free of obstacles and provide maintenance whenever needed.
Efficient Communication
The city-wide spread of 2,000+ fire hydrant locations and the number of employees in these respective departments means communication between the hydrant users, monitors, and maintenance workers is not only challenging but also inefficient and tedious.
Access to Dashboard
The department heads from relevant city departments required one-stop access toa dashboard that provides information relevant to all fire hydrants at once.
Less Complex
COK was looking for an easy to use, sustainable, and automated system that addresses the complexities of this type of infrastructure maintenance to save time and efficiency.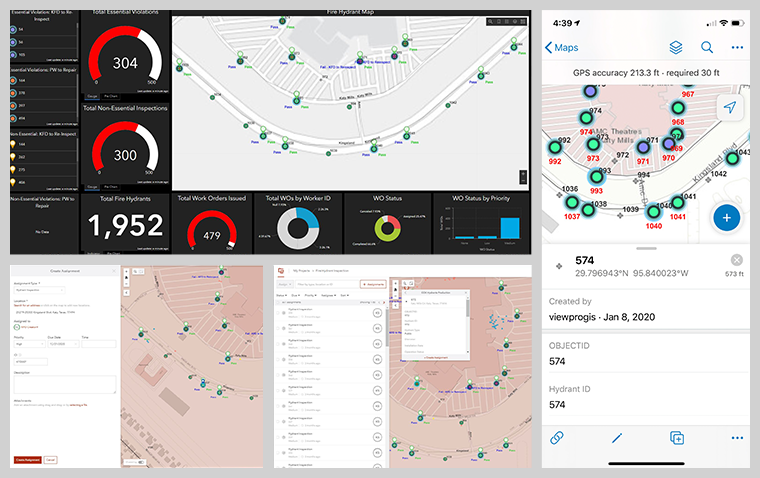 Solutions
ViewPro helped COK implement tools that integrated multiple field inspection workflows using Esri's ArcGIS Collector, Workforce, and Dashboards to build a streamlined operation for cross-departmental access to fire-hydrant maintenance and management.
Esri's field collection apps are auto-updating background maps, layers, and information graphics. Gauges and graphical analytics were coupled with a process of automation that keeps fire, police, public works, and city officials informed of where and what with regards to hydrant infrastructure.
Each department has instant access to the latest GIS data without depending on the IT or GIS department. Every worker, office or in the field, mobile or desktop, can see real-time updates of hydrant locations and conditions from one intelligent, easy-to-use interface.
To ensure their safety, field workers can be tracked and update their status to ensure situational awareness, and maximize work order efficiency during maintenance, inspection, or emergency events.
Summary
As a team of qualified City Planners and a certified Esri Business Partner, ViewPro recognizes the need for appropriate tools that will solve the unique needs of cities such as Katy. The ArcGIS Collector/Workforce/Dashboard combination GIS tool provided the City of Katy with a single authoritative management and monitoring system for 2,000+ Fire Hydrants in the city. Collaboration and communication between KFD, KPD, and KPW departments is made easier by removing the need for multiple one-on-one communications between staff, constant emailing, and concern for accuracy by automating individual workflows in real-time; completely managed by ArcGIS cloud reliability, data management, and appropriately suited visualization tools.