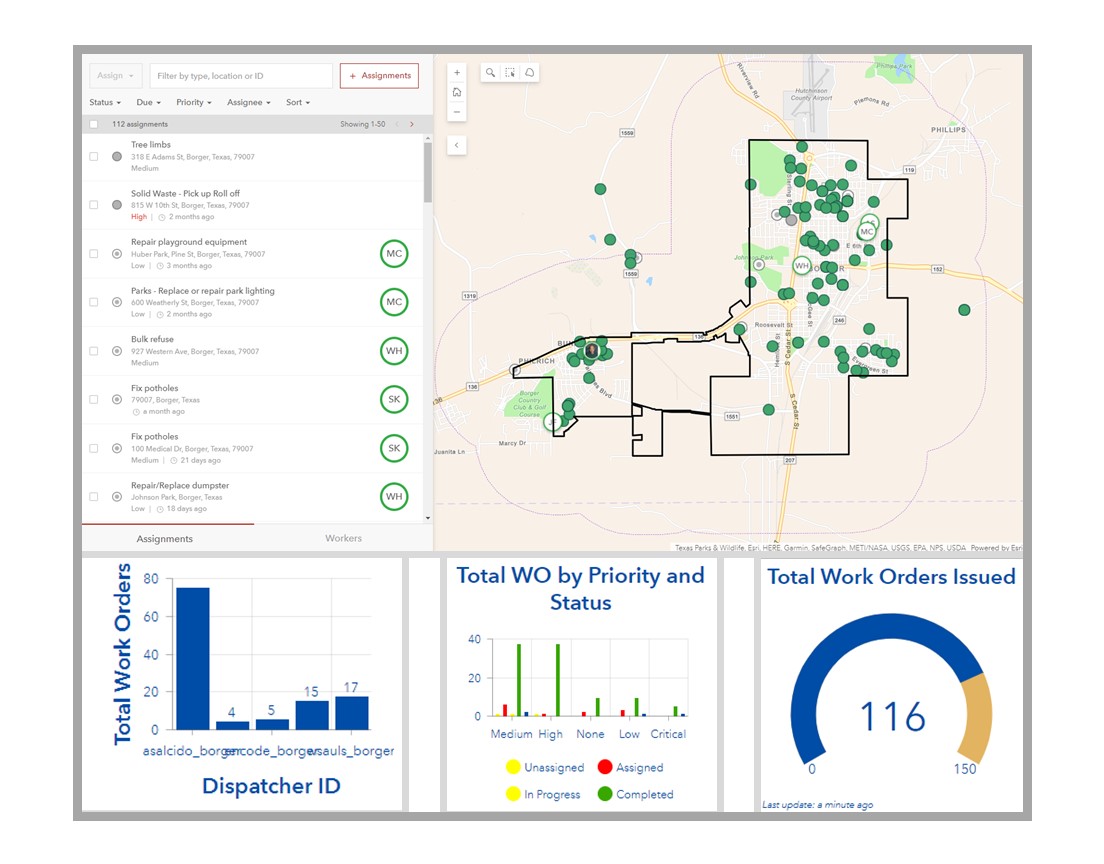 The Background
The City of Borger is a small town in the Texas Panhandle, north of Amarillo. In an era of tight budgets and growing needs, the city recognized a need to improve operational efficiencies and particularly, the interactions between its office and field staff. Inefficient processes and poor communication within various government departments can impact resources with both cost and time. These inefficiencies often result in a wasting of tax dollars – something Borger cannot afford.
The Problem
Public agencies often lack the technology resources required for streamlined workflow processes. Borger is a small town of about 13,000 residents and has a limited tax base. It must squeeze every last penny out of available tax revenue. Borger officials realized that an investment in the right technology tools could help them improve efficiencies, save money in the long-run, and provide better service to Borger citizens. The city itself lacked the staff capacity and skillset to create a software with the ability to streamline work processes. Additionally, bureaucratic processes can make the development of a new work order processing system cumbersome.
The Solution
The City of Borger realized they needed to contract with an outside firm – one that had both the capabilities to build a new software system and understand the innerworkings of a small municipal government. ViewPro, and its principal Suhag Kansara, had the skillset the city of Borger needed. ViewPro used its partnership with ESRI to deploy its Workforce software and customize it to Borger's needs.
The first step was to create an Esri Workforce application specifically for Borger's staff. This app had the capacity to assign tasks to various departments or crews, as a citizen request is submitted. For example, a pothole might appear overnight, and need to be filled before thousands of cars try to drive over it. Borger's office staff can view the request, and then assign a field crew to repair the pothole. Once assigned, the office staff can track the field crew in real time. Have they arrived at the pothole? Are they in process of repairing the pothole? Is the repair complete? All these questions can be answered with one glance at Borger's new Workforce application. This progress tracking enables office staff to communicate and provide reliable, relevant information back to Borger citizens.
Summary
The integrated ArcGIS Workforce software streamlines task assignments and internal workflow processes. Borger's city staff are now able to assign work orders to specific crews or individuals, track progress towards completion, and ensure field crew's safety all through a single application without having to make phone calls, emails, print or in-person follow ups. This results in significant time and cost savings. This streamlining is only possible with ESRI's ArcGIS Workforce software, customized to Borger's small-town context.