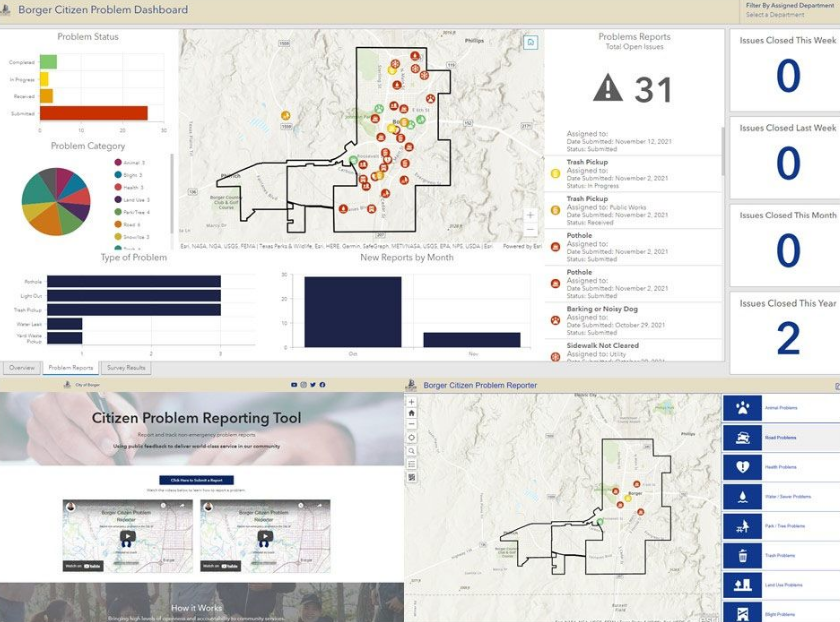 Background
Individual citizens often see minor, non-emergency problems – like a pothole or graffiti – before local government staff. Many cities use a 311-type system, offering people an option for alerting government staff to these problem areas, and hopefully directing them towards a quick fix. These 311 systems traditionally use phones and paper to log and track submissions. It is time consuming and outdated technology. Many city governments are struggling to provide residents with a technology-forward solution for submitting non-emergency issues.
The Problem
The City of Borger, a rural town in the Texas Panhandle, is setting an example for how to incorporate technology into government services. Technology-enabled services improve government efficiency and create costs savings – critical for a small town like Borger with a limited tax base. Borger wanted to expand its technology services to include citizen reporting. The city needed a technology tool that enables citizens to submit problems they see as they walk their dog or commute to work, and an internal system for tracking citizen submissions.
The Solution
ESRI's Citizen Problem Solver is a technology-forward approach to a traditional 311 system. The City of Borger hired ViewPro to customize ESRI-based Citizen Problem Solver ArcGIS Solution, which has three primary elements – the Citizen Problem Reporter, Citizen Problem Dashboard, and Citizen Problem Manager. The Citizen Problem Reporter lets an individual submit a problem they see along the street or public area. It is a simple application and downloadable to a smartphone. Someone can open the app, select a category for the problem (i.e., pothole), and provide a picture or details about the problem to the city staff. This automated and location-enabled data feedback loops allow someone to submit a report 24 hours a day, seven days a week.
The City of Borger's customized solution includes a backend system for staff too. Now, a department, team, or individual can quickly be assigned to address the submitted problem. ESRI's Citizen Problem Solver is one part of Borger's recent technology investments. Each of Borger's new technology-forward solutions complement one another, creating synergies across departments and processes. This includes the Citizen Problem Solver's integration with Borger's work order management system. Technology, customized by ViewPro, enables Borger to have an efficient, data-supported way to address non-emergency problems around the city.

Summary
Through an application on their smartphone, Borger residents can now identify a problem (i.e., a downed tree branch), monitor the city's progress towards fixing the problem, receive a report when the fix is complete, and provide feedback to the city staff for a job that met their expectations or fell short of it. This is only achieved thanks to ViewPro's customization of ESRI's Citizen Problem Solver application and integration into the city's work order management system.